Sludge Dewatering System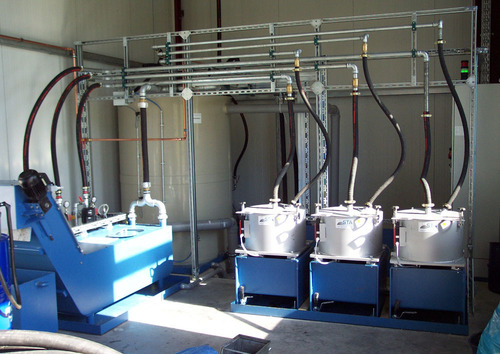 Sludge Dewatering System
Sludge DE-watering System

The Centrifuge Decanter helps to clean thickening, etc. by DE- watering process. Sludge DE-watering System is a complete solution for all water impurities, and also, give proper direction to clean different water sludge.

Due to high rotor accelerations and the fluid-dynamical design, glass removal systems can efficaciously separate and discharge the finest particles as dry residues. Along with this Centrifuge Decanter also help to separate the solids from the liquids without the use of any filtering consumables and this decentralizing process can also remove solid particles with high efficiency.

These Decanters also helps to save water, time, disposal costs and space. The separated sludge is effectively compressed by
Sludge DE-watering System.

Sludge DE-watering Systems as well as centralized systems both are available that are based on customer process plants.
Further Details
Customers have seen paint slime era diminished to about HALF, the weight, by utilizing centrifuge separator. The arrival on speculations (ROI) is exceptionally remunerative for establishment of the separator with significant investment funds as specified previously.
Reusing of wastes viz. water from paint closets or ooze pits, after evacuation of paint muck diminishes the heap on the ETP. Sparing of water is an essential component. The ooze separators can be associated straightforwardly to the paint corners with no need of slime pits, skimmers, and so forth, hence staying away from major common expense. For existing paint shops the separators can be associated with the muck pits, skimmers, and with others.
The Paint & Phosphate Sludge DE-watering Separator are likewise, used for the utilization of the Phosphate and Degrease slime expulsion. The formulaic Phosphate Sludge Removal Systems are exceptionally awkward and a high level state of upkeep and space. This can be confronted away by the utilization of minimized Centrifuge Separators, which DE-water the ooze by outward compel and don't have any filtration media, along these lines abstaining from gagging issue.
We are glad to acknowledge you to some of our prestigious clients for Paint & Phosphate Sludge DE-watering Separator as takes precedes: TATA Autocomp (Hinjewadi and Mann), Volkswagen India (Chakan), Bajaj Auto (Aurangabad), Varroc Polymers (Chakan), Mahindra and Mahindra Ltd. what's more, some more.

PLEASE CONTACT AQUARIUS ENGINEERS OFFICIAL WEBSITE www.aquariusengineers.biz FOR MORE INFORMATION.
Get in touch with us