Phosphate Sludge Removal System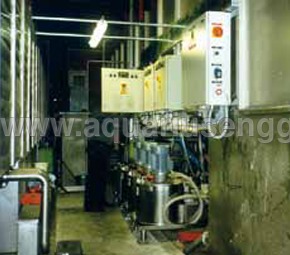 Phosphate Sludge Removal System
The formulaic Phosphate Sludge Removal System is use for the purification of variety of SS tanks for example SS clarifies tanks, channel press along-with various types of SS tanks and adornments are totally kept away from by utilization of Centrifuge Separators.

The Separator is directly connected to the phosphate tank and the clean solution is returned back to the tank on a continuous basis.

The Separator is specifically associated with the phosphate tank and the perfect arrangement is instrumented rear to the tank on the constant base.

The Centrifuge Separator can remove solid particles up to 5 microns and below at a very high efficiency. Purely due to the high rotor accelerations and the fluid-dynamical design finest particles are effectively separated and discharged as dry residues.

The Centrifuge Separator can evacuate concrete corpuscles up to 5 microns, following the highly effective process. Because of the high rotor increasing velocities and the liquid dynamical configuration the finest particles are viably isolated and released as dry buildups in Phosphate Sludge Removal System .

The Separators are provided with a low maintenance and low noise direct drive arrangement.

Moreover, the Separators are given a low upkeep and low clamor to direct drive preparation.


Features:
Ergonomically designed

Low on maintenance

Easy operation
PLEASE CONTACT AQUARIUS ENGINEERS OFFICIAL WEBSITE www.aquariusengineers.biz FOR MORE INFORMATION.
Get in touch with us