Glass Removal Systems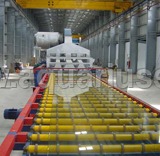 Glass Removal Systems
Glass Removal Systems

Thanks to high rotor accelerations and the fluid-dynamical design, Glass Removal Systems can efficaciously separate and discharge the finest particles as dry residues. Along with this, the Separators can clean grinding water, coolants and other process liquids in a reliable manner.

The process of cleaning water will efficiently improve the grinding performance and increase the life of coolants, tools and the machines. Also, extra drying is not required if we compress the separated sludge in a perfect way. By the following process, separators can also save water, time, disposal costs and space.

By the process of sedimentation, the chemicals completely obsolete and clogging will not take place during the grinding wheels or system piping, moreover by this procedure water will remain salt free and machines will be rust resistant.

Clear water recuperation is possible by the combination of Back-Flushing, Micro-filter Clear Tube System for CNC machining center spindles or glass washers. Glass Removal Systems can generate clear water even from heavily polluted grinding water, without any consumables with fully automatic system. If we combine it with the separator and the periodically back-flushed slurry will be separated along with the grinding water, the reason why only one dry sludge collected in one place.
Features:
Flawless automation

Optimum functionality

Low on maintenance
PLEASE CONTACT AQUARIUS ENGINEERS OFFICIAL WEBSITE www.aquariusengineers.biz FOR MORE INFORMATION.
Get in touch with us