Concrete Recycling Plant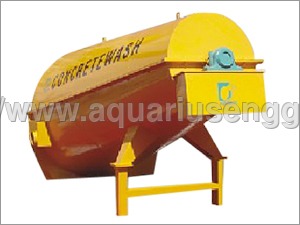 Concrete Recycling Plant
Product Code : 09
Brand Name : Aquarius
In conformance with worldwide quality sets, we struggle to distribute finer quality Concrete Recycling Plant. This recycling unit is preferably utilized to get back slurry water and collectives that are supplementary utilized in concrete production and improving pumping capability. We present this plant in various forms and requirements to meet with our end users needs. Presented recycling system is a perfect resolution for ravage water dumping and washing problems; thus very extensively utilized in housing colonies. Concrete Recycling Plant, we present is extremely insisted for the below mentioned traits:
Simple installation & preservation
Trouble free operations
High competence
Anti Corrosive
Extended service life
Handling and Disposal of residual concrete made easy:

Concrete wash concrete recycling plant, fabricated by Aquarius, is a exact answer for resolving your issues of disposal of remaining concrete and stained water formed while maintenance transit mixers, concrete pumps, stationary mixers and concrete buckets.
Concrete wash offers separation amid solids over 0.15 mm diameter, throughout spirals turning inside an leaning stationary drum.
Stained water is released by compulsory pour out into a stained pit and is then utilised for recycling in clean concrete production.
Main advantaged of concrete wash can easily be recognized as:
The removal of hard material is executed from beginning to end by a coiled arrangement without any congestion of straining spades typically adopted in sand cleaning plants.
Overall utmost wear conflict awarded due to less revolving speeds.
Permit trouble-free placement within offered concrete plants due to probably of changeable place layouts.
Extremely well-organized production ability of 10m3/hr.
Easy operating Sequence:
Procedure and management of reprocessing plant is made simpler with mechanical control and bare minimum user boundary due to request of contemporary control means.
Place the transit mixer.
Unlock dirt-free water regulator for diluting residual concrete within the transit mixer.
Press START key on the control panel.
Release thinned concrete in feed hopper.
Press STOP key when all concrete is cleared and mixer is dirt-free & clear.
The unit keeps functioning repeatedly by design until all solids are taken out.
Models Available:
Note: Performance of apparatus is based on benchmark working forms. Design / requirements can be altered without former notice
| | | |
| --- | --- | --- |
| Specifications | Unit | CW 10 |
| Max. Washout ( normal concrete) | m3/hr | 11 |
| Max. washout (normal mortar) | m3/hr | 4 |
| Separation of solids down to | mm | 0.15 |
| Max. size of aggregate | mm | 50 |
| Delivery required of clean water | m3/hr | 12-18 |
| Pressure required for clean water | bar | 2 |
| Time required for end washing | min. | 6 |
| Max. no of discharge vehicles | no. | 2 |
| Dimensions of discharge hopper | m | 1.5x2.0 |
| Separator motor | kW | 5.5 |
| Clean water pump | kW | 2.2 |
| Recycled water Agitator & Pump | Model | AR30 |
| Max. agitating capacity | Cubic cm | 30 |
| Agitator motor | kW | 3 |
| Dimensions of slurry pit | M (lxbxh) | 3.2x3.2x2.9 |
| Agitation cycle (Pause/ work) STD | min | 15/3 |
| Recycled water pump | kW | 3 |
| Delivery of recycled water pump | m3/hr | 50 |
Get in touch with us